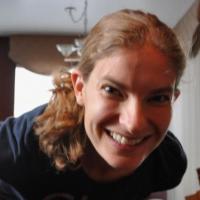 Hi! I'm Sarah. I'm a first-born good girl who is finally realizing I can't do it all.
I've always been a high achiever and a people pleaser which resulted in a lot of outward success. I have a great career, a husband, a son, a house, a dog. No white picket fence but that would be pushing it here in California.
So what's the problem? The problem is Jesus. Here's the deal. I love Him. I know all about Him. I know in my head that He loves me. But I don't trust Him. Not really. Not without limits. Not enough to give up control of my life.
I don't want to live like this anymore. I want to trust Jesus with all my heart, soul, mind, and strength. I want to be willing to give up anything, be joyful regardless of my circumstances, and be used by God for His glory.
My reason for writing this blog and starting these experiments is to be intentional about learning to trust God. I have no idea what trusting God looks like for my life. I do know it's incredibly easy for me to get distracted and overwhelmed with all of the daily things I need to do.
So each month I'll choose an experiment. Something that I need to give up control over. Honestly, I'm really scared and also excited about where God will take this.