Creating a Memory Box
28 DAYS TO A CLEAN & ORGANIZED HOUSE: PART 3
My son has been taking a Korean class since last fall and unfortunately there isn't a lot of build-in review of the vocabulary. In addition, since the beginning of the year my son has been memorizing one Bible verse every week as part of Picture Book Preschool. We needed a system for regularly reviewing everything we're trying to memorize.
I'd read about the Charlotte Mason Scripture memory system and decided to give that a try. First, I found a cute paper box at Daiso, the Japanese dollar store. Then I bought a much of index cards and a few sticky labels. This is the result: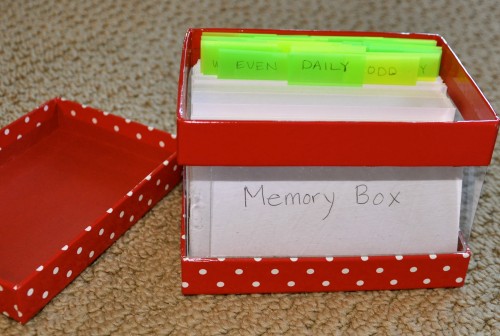 We started this morning reading the cards behind the Daily, Odd, Tuesday, and 11 labels. Since we had quite a few Korean vocab words I think it was too much. So I'm going to pull some of those out and slowly add them back in.
I found a few other containers at Daiso and Beverly's crafts and I've been using them to organize a few other areas around the house.
The items we use in the kitchen every morning (children's story Bible, Korean homework papers, other books, etc.) are now in a plastic bin on the floor instead of strewn across the kitchen table.
The bandaids and other medications in our medicine drawer are now neatly organized in a couple of woven baskets that fit nicely in the drawer.
And finally, the toothbrushes and toothpaste that were laying on the bathroom counter are now standing up in a pretty red container.
Related Posts
No Responses