Week 1 Review: Organizing My Child's Artwork
28 DAYS TO A CLEAN & ORGANIZED HOUSE: PART 2
For the first week of my 28 days to a clean and organized house experiment I've focused on getting a system in place to organize and archive all of the artwork and other papers that my 4-year old creates. I'm really pleased with the process so far.
Taking the time to develop a system or routine for the small things in my life that nag at me produces great value over the long term. Instead of being frustrated by the endless pile of papers on my desk and feeling guilty about throwing away some of my son's drawings, I have a system in place to deal with it and I'm happy with the end result.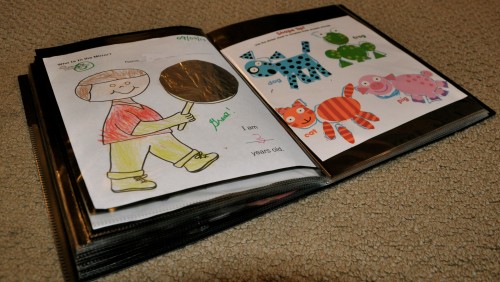 To deal with my son's artwork and other papers I now follow a few steps:
They immediately go in my "inbox", a basket in our entry way where I put mail that needs to be sorted.
At least every other day I take the papers from the basket and scan them directly into Evernote using my Fujitsu ScanSnap scanner. I used to do this much more infrequently and the pile gets too overwhelming. I find it much easier to do this for just a few minutes each day.
I then place the papers in a pile on the shelf under our coffee table (I think I'll move this to a binder).
Once a month I'll review the papers in the pile and choose 1 or 2 that I want to keep and the rest I'll toss in the trash since they've already been scanned .
At the end of the year I'll choose 24 pieces from the remaining pile and put them in the portfolio I purchased, which was only $9 and I love it! The portfolio has room for 48 pieces so I'll use one portfolio for every two years. I've already put one together for the artwork I had lying around from when my son was 2 and 3.
That's it!
For this next week I'm going to join Crystal Paine for her 4 Weeks to a More Organized Home Challenge.
Related Posts