Favorite No Sugar and No Caffeine Recipes
28 DAYS OF NO SUGAR & NO CAFFEINE: PART 15
To completely stay Paleo with no sugar and no caffeine I've had to cook the majority of my meals. I enjoy cooking and during this experiment I've discovered some excellent recipes. I'm sharing my favorites to inspire anyone else who is thinking of giving up sugar and caffeine for a while. There is plenty of delicious food you can still eat!
Breakfast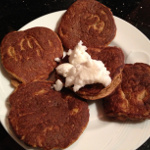 Pumpkin Pancakes
If you've been following my weekly reviews this will be no surprise. I made these several times each week. They are quick, easy, delicious, and my 3-year old son loves them too. I've even used them to give my son a sandwich when he asks for one. I put almond butter and jam in between two squarish shaped pancakes. A winner all around!
Lunch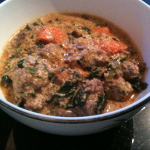 Beef and Eggplant Red Curry
This is one of my favorite lunches. It's delicious and satisfying and I always have leftovers. And the leftovers taste great too! Here's the recipe:
Ingredients:
1/2 – 1 lb of grass-fed ground beef
3-4 slices of beef or pork liver (optional)
1 globe eggplant or 2 Japanese eggplants or 1 large carrot, chopped into 1-inch pieces
1/2 cup frozen spinach
2 Tbsp Red curry paste (I used Thai Kitchen)
2 Tbsp Fish sauce
1 can coconut milk
1/3 cup bone broth (optional)
Steps:
Cook the ground beef in a large skillet over medium heat. Set aside.

Briefly sauté the liver pieces (if using) for about 1 minute per side in the fat leftover from cooking the beef. Set aside with the beef.

Add coconut milk and curry paste to the skillet and simmer over medium heat for 5 minutes.

Add the eggplant or carrot, spinach, fish sauce, and bone broth and simmer for another 10 minutes or until the eggplant is cooked through.
Add the ground beef and liver and stir.
Serve hot. Makes great leftovers.
Dinner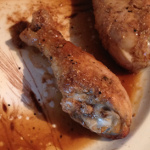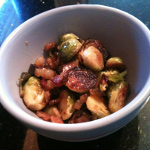 Damn Fine Chicken and Roasted Brussels Sprouts with Bacon
These are two of my favorite recipes from Nom Nom Paleo. They make an excellent dinner that my whole family loves. I can't wait to try more of Michelle's recipes because so far every recipe I've tried has been awesome.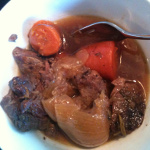 Close second: Pot Roast
Another recipe the whole family loves.  Also, super easy to prep in the morning and put in the crockpot. By dinner time you have a mouth watering smell in the kitchen and a delicious dinner.
My modifications to the Pot Roast recipe:
Used leftover bacon fat instead of olive oil to sear the meat and vegetables.
Once seared I put the meat and vegetables in the crock pot with the bone broth on low for 6-8 hours.
Treat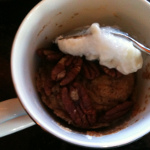 Pumpkin Cake in a Mug
I made this way too often during the experiment.  It was my go to treat because it didn't use up by daily banana or apple and I could have it made and cooked in about 4 minutes. Since I also gave up caffeine I topped it with coconut butter instead of the chocolate topping in the recipe.
Dining Out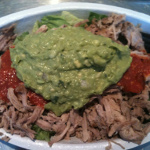 Chipotle salad bowl with double carnitas, green salsa, and guacamole
Related Posts
No Responses